Ladies, stop defaulting to strapless dresses.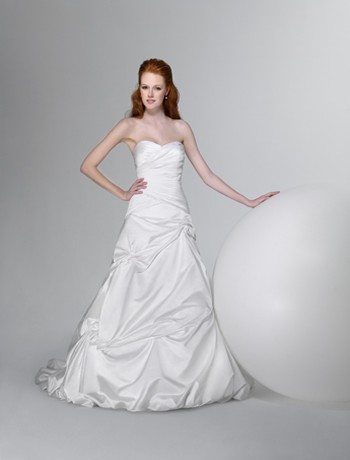 Alita Graham strapless available in plus size?. Oh please no.
Okay, that might sound harsh and, coming from a guy, it might be considered in bad taste and a reinforcement of the male patriarchy but, please, just stop it. Armpits are not as sexy as you think they are. Flabby and giant biceps are not attractive. Looking like a little boy in a dress is not sexy. Looking like a squat little cupcake is not elongating. Having your boobs for the whole entire world to see is not something I want to see at a wedding. Please, for all that is right in the world, think about a dress with sleeves, or a nice v cut, or ANYTHING ELSE. I'm begging you, I'm on my knees here. Don't do what everyone else does. Don't buy into the fantasy that just because a model is a size 0 and an A cup means that a size 10 D cup can look just as good. Or even if you are a size 0 and an A cup, can you really pull off something that gives you no shape whatsoever? Open your mind, your eyes, and your hearts to the possibility that sleeves can be good and are not relics from the ugly scary wedding dress era of the 80s.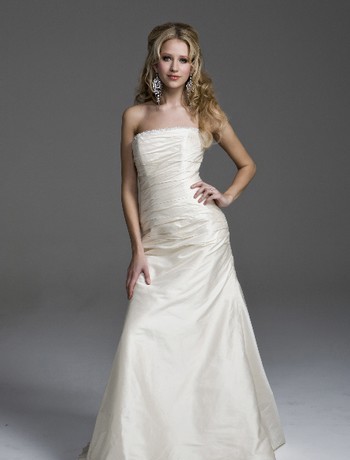 You won't be able to stand like this in your Henry Roth dress during your entire wedding faking a curve that you don't have.
I'm not the only person in the world who watches Say Yes to the Dress but I must be the only one who believes that strapless wedding gowns are an unhealthy blight that is infecting our wedding culture. 90% of all dresses at Kleinfeld's are strapless. Go onto any website and the vast majority of brides, no matter how they look, their size, or their sense of style, they end up picking a strapless dress. For some reason, they're under the misguided opinion that strapless dresses are attractive on all body types. I'm sorry, but if you believe that, you're delusional.
There is roughly only one body type where a strapless dress works and that is if you're a rail. If you're not, then strapless dress will cause problems. Of course the dresses look pretty on models because they're MODELS. They're tall, thin, and built to be walking clothes hangers. A woman who isn't built that way cannot just assume that she'll look good wearing the same dress. However, I do realize that "white" and "wedding dress like" are pretty much the only thing a lot of women go think about going into the wedding dress process. I personally think too many people go into the process seeing models dressed in wedding dresses and really wanting to look like the model and not really care enough about the dress and how it looks on them. And even if you bring your friends with you, they're going to be primarily focused on what THEY want to look at on THEIR wedding day. So not only do you end up going dress shopping under false pretensions, you also get bad advice. That is just a recipe for all sorts of fail.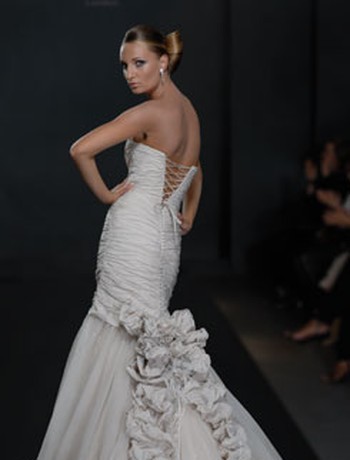 Oh Ian Stuart, why are you are you making ladies lie to themselves and thing that shoelaces up the back won't turn their backs into little butt shaped things?
I'm not a person who believes in the body positive movement, ideology, or whatnot. I'm a guy, I stare at myself in the mirror at night and wish my stomach was flatter, my biceps a little bigger, and lie to myself and say that I'm going to the gym tomorrow. And I think that just because people are getting larger nowadays doesn't necessarily mean I have to support their behavior and respect it (it doesn't mean I can't treat them as human beings however). I've struggled with weight, I know how hard it can be, but I also don't think it's healthy for our population to default to fat, greasy, and large portions. But, like Stacey and Clinton say, I do believe in dressing smart and dressing the body that you have and working with it. You don't have to love it, you don't have to like it, but you should at least learn how to dress it and work with it. Tim Gunn says "Make it work" and I believe that.
So ladies, when you stand at David's bridal or open Modern Bride, stop falling for the trick that the model on the page is how you should look on your wedding day because, guess what? You shouldn't. You're not a size 0, you're not an A cup, you're not 6 feet tall. You are whatever you are and you should look your BEST on your wedding day. That means a strapless dress probably won't work for you. That means cover up your arms. That means v necks are going to make you taller. And stop lying and claiming that you're "curvy" if you're not. It's okay to just say you're fat. But it's not okay to wear a strapless dress where your boobs are falling out and it looks like you're wearing a barrel around your waist. And as an advocate that every engaged groom should look impeccably clean, streamlined, and classy on his wedding day, shouldn't I hold you brides to the same level? Best doesn't necessarily mean fantasy, dream, or long hoped for desire. It means looking great, fabulous, and making all the women watching you as you walk down the aisle silently wish they had looked as good as you on their wedding day. Envy, my friends, is sometimes not a bad thing to strive for.