My fiancee forwarded me a link to show me that engagement rings are getting artified.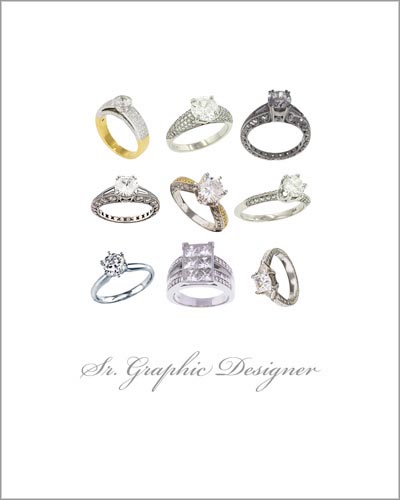 And, of course, by artified, I mean that someone did a google image search on god awfully ugly rings and tried to come up with a statement on what an average bloke could buy on two months salary. Lee Gainer's attempt at showing the differences in what you could get. The problem, of course, is that the rings exhibit no taste or design aesthetic and that, in my mind, actually detracts from what the artist was trying to get across to the viewer. Plus, the fact that it's hard to distinguish each ring on the page from other rings shows, to me at least, that artist doesn't understand where the expense in a ring comes from. And the part in their statement about the 3/4 carat ring in NYC ignores that fact that, in NYC, the overall prevailing wisdom is that if you're going to get a traditional ring, you should aim for 1.5 carats if you have the type of job that lets you live in a trendy spot in Manhattan. That, of course, doesn't fly in other parts of the country but, again, this is NYC after all. We're kind of special here.
So what is this piece saying? From the artist's statement, (and the comments from sites like Jezebel), I'm guessing that the overall point is to try and show one problem with materialism which can lead to the fact that overall value is associated with a paycheck and wealth. The problem, of course, is there is nothing in this piece that, at first glance, shows that. Sure, the A list actor rings are suppose to be larger but the rings are ugly and there is nothing about those diamonds that actually show where the cost differential lies. The 4 c's aren't apparent and anyone who has shopped for a diamond knows that is where the price difference comes in. I've seen plenty of big ugly diamonds being used in earrings or used as bling for wannabe rap stars. But I don't know anyone who looks at those ugly ass diamonds and go "oooo". I know that's the effect that people who buy these diamonds try to get but it's a fool's errand. In my opinion, a more effective presentation, and way, for the artist to get their point across would be to attack the concept of "eye clean" or "ideal" right on its head. Because, and I hate to break it to you, it's not only size that matters; sparkle and pretty matter too. Critics of diamonds always seem to forget about that last bit.