What if Christian Siriano designed several random celebrity wedding dresses? I bet that's a question everyone asks (okay, to be honest, I never have) so Brides.com got Christian to sketch some designs for some custom wedding dresses.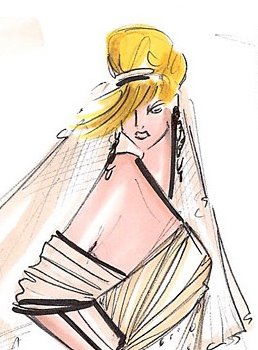 Uma Thurman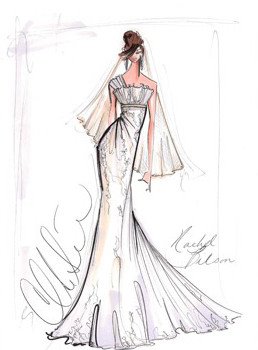 Rachel Bilson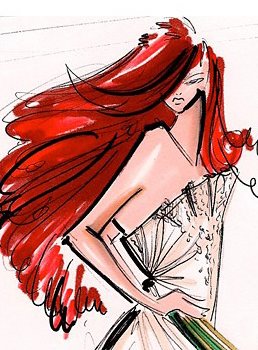 Amy Adams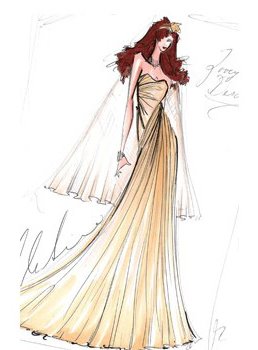 Zooey Deschanel
The dresses are simple, sleeveless (sadly but, these are actresses – they could actually fit into these dresses correctly), and that seems to annoy some people but I think Christian Siriano has the right idea. Why wear a dress that is going to overpower the frame that is wearing it? I think most guys understand that brides are suppose to be the focal point of the big day. We realize that a dress, the ceremony, the makeup, the hair, the photography, and everything else revolves around the bride. So, if that's part of the wedding ritual, why should the dress be so "ground breaking" as to be the star of the show? It should enhance the bride and not be a distraction from it. There's a reason why models are suppose to be thin and walk a certain way on the runway. You're suppose to notice the clothes and not the person wearing them. And if the wedding dress becomes to ornate, the bride becomes some nameless individual walking down aisle. Everyone might know her name but there is going to be a look, or a feeling, that something isn't quite right and guests (and the groom's) eyes are going to be pulled away from HER and instead directed at the dress that she's wearing.
For some brides, this might be the only day of their lives where they get to feel like they're part of a runway show. But they need to pull back and focus on fit and framing and details. Like I tell myself, the small details are what's going to be noticed in my tux and suit when I go talk to people during the reception. Those details on the bride's dress should only be noticed when the dress is examined up close later. If a bride doesn't want that, then their groom should be allowed to wear a see-through bodice with his tux. This is the 21st century after all; fashion cuts both ways.