Actually, I just read Etsy Wedding and wait for my fiancee to send me a link about something nice she's seen. It's a good way to pretend to be Martha Stewart when I'm really spending my time seeing which celebrity broke up with who. I spend too much of my time on the internets.
Anyways, Etsy Wedding posted their list of Top Ten Men's Vintage Items of Etsy. I'm not really into the whole vintage craze. It's always struck me as a way to raid your grandmother's closet and charge several hundreds of dollars for clothes that smell like old people. I know some people can really make it work though. And I do know that vintage weddings are very trendy right now (though it seems to costs a lot of money to do it right). And if you love old cars, it's hard to not have a vintage mind set. So, out of the list of ten, I liked 3.
Diamond Cut Cuff Links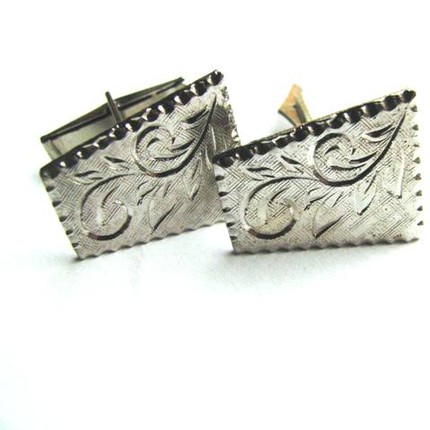 Diamond Cut Vintage Cuff Links. You can never have too many cuff links. I like the cut and the design. I have a feeling that, when place on the wrist, the cut is going to go well with the natural contours of the forearm, wrist, and hand. And even though the cut is vintage, the design is classic which means it would work for most tuxes and suits. I like these quite a bit.
Tiger Print Swim Shorts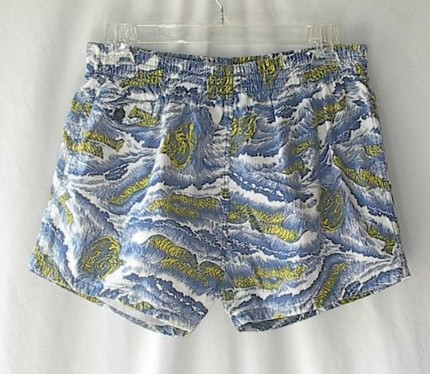 Manhattan Tiger Print Swim Shorts. To be honest, I couldn't wear these. I carry all my weight in my giant thighs (I'm short and stocky sadly) but I like the look. Getting away from swim shorts either being speedos or baggy shorts is a nice trend to see. These shorts would fit well, be slimming next to the body – as long as you can avoid the muffin top. Guys having a muffin top is gross. I'm not sure exactly why these are considered wedding related but it's a nice touch after all.
Bowtie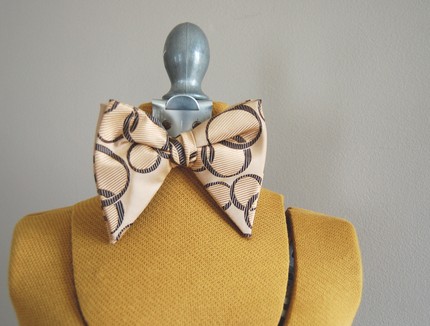 Big Bow Tie. I won't be wearing a bow tie at my wedding. BUT, if I was going to, I would rock something that looked like this.