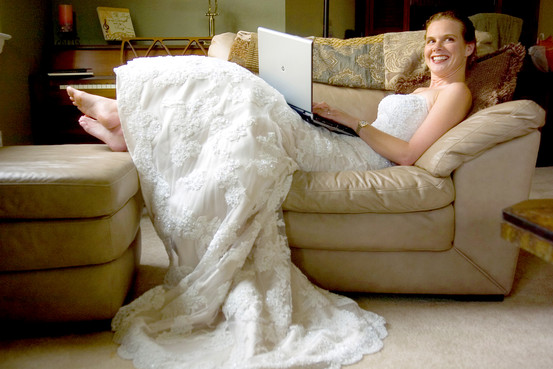 With the economy the way it is, the Wall Street Journal decided to take a look at websites that sell used wedding dresses. Business is booming. $450 for a wedding dress that was originally $1250? I'd do that. Heck, I'd WEAR that which is probably why I wasn't involved in my fiancee's wedding dress shopping. A wedding dress that costs less than my (possible) wedding day suit is a pretty exciting thing.
Why are so many used wedding dresses coming up on the market? Because there is still the tradition that a person's daughter might want to wear their mother's wedding dress. But have you ever met one person who has done that? I know plenty of people who have used their mother's or grandmother's diamond ring as their engagement ring but none that wore their mother's dress. Styles change and, to be honest, I loath the resurgence of big puffy sleeves that are going to show up soon when all the kids born in the 80s finally come to age. Do you know anyone who is going to wear that style of dress nowadays? I thought so.
Of course, selling a used wedding dress has its risk. It'll take a long time to sell and if the dress has been heavily altered, there's a good chance that a person interested in your dress won't be able to fit in it. You might both be a size four but if you're packing a full set of luggage in your trunk, it'll be hard to find someone with your matching features. But with a price at only 30% of market value, the deals are pretty fantastic.