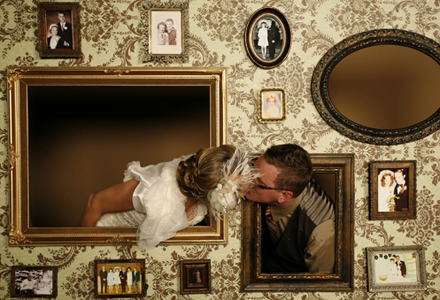 Okay, I agree with the Knot. This is genius.
It reminds me of Harry Potter and the moving photographs. I know I know, I'm talking about Harry Potter and, at one point, I was very anti-Harry Potter. But times change and I grew up. So this photobooth idea is where a backdrop with fake photo frames surrounded by real family portraits so that every picture taken is like being part of the family. AWWWW. It makes the old grumpy punk in me get misty eye.
But this is when the old grumpy punk in me starts getting creative. I would allow only family portraits in my photobooth backdrop to be embarassing family photos. Pictures of me in glasses and awful 3rd grade hair? Check. The pictures of any of my family members drunk and in a pose ala Jon Gosselin's new girlfriend? Check. Photos of my stylish aunts wearing shoulder pads bigger than the current linebackers of the Denver Broncos wear? Check. Muahahaha.
It's amazing I'm not single, isn't it?