Okay, this is not wedding related but I had to share it.
On Monday, Metropolis Comics sold a copy of Action Comics #1, CGC 8.0 (Very Fine) condition for $1 million. Action Comics #1 is the first appearance of Superman.
On Thursday, Heritage Auctions sold a copy of Detective Comics #27, CGC 8.0 (Very Fine) for sold $1,075,500. Detective Comics #27 is the first appearance of Batman.
Superman started the superhero comic book genre. Batman was #2. So why did Batman beat out Superman?
My guess is because very few comic collectors can afford comics at this prices. Both Action Comics #1 and Detective Comics #27 are part of the pantheon of Holy Grails and, when I stopped comic book collecting in 2006, both were considered $1 million dollar books (though no sales at that price had yet to be commissioned). Very few of Action #1 and Detective #27 still exist and very few are in like-new condition. This comics rarely come out to play so, when they do, you need to spend big money to buy them. I doubt these comics are going to investors looking to flip the comic book down the line. Rather, they're probably going into the hands of long time collectors who really really really want these comics. Both of these specific comics are NOT the best version of their respective fields (there are one or two copies that are in better condition) but the best aren't coming out to play anytime soon. These two copies are as good as it currently gets.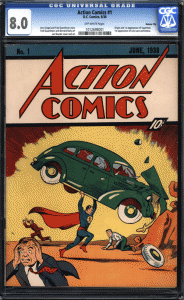 From Comic Connect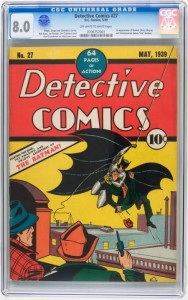 From Heritage Auctions