The ELCA has just released a new web product called Living Lutheran. The tagline is "A daily blend of stories, culture, and community." It seems to be a type of web community with a large number of contributors writing blogs, creating video content, and talking about …wait for it…. living Lutheran. I am curious to see how this plays out but, well, I just subscribed to the feed and the RSS seems disjointed and out of whack.
But as much as I find a lutheran web presence interesting, what I think was even more interesting was the image that was in my synod's newsletter announcing Living Lutheran.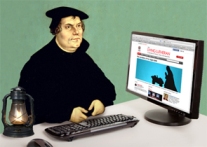 Luther prefers to type by lantern light.
Let us be honest here – if Luther used a computer, I really doubt it would be a Windows machine. He would definitely be using a Mac – probably the Macbook Air. Its light weight would make it handy while being kidnapped and sent to Wartburg Castle.