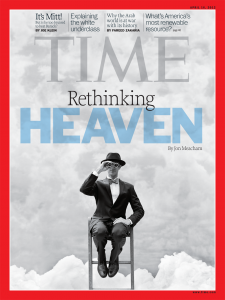 It seems that Time Magazine didn't want to let Newsweek be the only one to talk about Jesus this week. Rethinking Heaven is Time's foray into eschatology. I wish I could read the whole thing but I'm not a subscriber. The cover enticed me and, I'll admit, I want that guys shoes. However, the Politico Playbook felt like sending out a teaser today.
Heaven Can't Wait: Why rethinking the hereafter could make the world a better place": "Angels and harps are all well and good, [some younger] Christians believe, but fighting HIV/AIDS is more urgent. This younger generation is driven by … issues of social justice like combatting slavery and homelessness. … The debate doesn't fit easily on the usual left-right, blue-red, liberal-conservative spectrum. … The divide isn't about a secular ideal of service vs. a religiously infused vision of reality. It's about whether believing Christians see earthly life as inextricably bound up with eternal life or as simply a prelude to a heavenly existence elsewhere. …

"I'm a Christian-a poor one, to be sure-who keeps the feast and says his prayers . For me, the scholarly redefinition of heaven as a manifestation of God's love on earth … at once puts believers in closer proximity to the intent of the New Testament authors and should inspire the religious to open their arms more often than they point fingers. Heaven thus becomes, for now, the reality one creates in the service of the poor, the sick, the enslaved, the oppressed. It is not paradise in the sky but acts of selflessness and love that bring God's sacred space and grace to a broken world suffused with tragedy until, in theological terms, the unknown hour when the world we struggle to piece together is made whole again."
Now, I know that this is a generalized news magazine and, based on the quote above, I'm pretty sure that they're arguing for a scholarly redefinition of heaven that is based, largely, on what is going around in "Evangelical" circles ever since Rob Bell wrote his book last year. "Evangelicals" seem to make a lot of noise so and they seem to have numbers, so they get the articles. But I'm having a hard time seeing how this redefinition of heaven is "new." I'm currently reading Carl Braaten's Eschatology and Ethics for my Ethics class and his book, in many ways, is about a basic definition of eschatology where the future is breaking into the current world. It is an eschatology grounded in the gospel of Jesus Christ which "announces the future with the power to shape the present(pg. 70)." And this idea isn't new. Braaten's book was written in 1972 and I'm sure that Luther, and Augustine, wrote similarly. My guess, in many ways, is that Time's new article is a story on the re-structuring of what The Book of Revelation says. It sounds like the article is going to report that young Christians, now, are not buying into the escapism that dominated the conversation, in certain Christian circles, for so long. And, sure, I could easily attack the line about creating heaven on earth but I'm gonna give the quote the benefit of the doubt and let it slide because, well, I don't have the full article.
It was well planned to leak or release this article on Maundy Thursday. Later this evening, I will gather with my fellow Christians at my field site and we will wash each other's feet. We will share in Holy Communion and we will, at least briefly, share in Christ's service. At the end of the service, the altar will be stripped, and the lights lowered as we begin the walk into Good Friday. A rethinking of heaven, grounded in a "realized eschatology" grounded on…something…, could be linked to the act that we commemorate today in our liturgy. But I wonder if this article is going to miss the boat when it comes to mainline churches, especially us Lutherans. I'm pretty young, and I haven't been in this church for decades, but this image of eschatology appears to play a role in what the Lutheran church has done for many, many years. Luther's cry for all of us to be "little Christs" to one another is a cry that hasn't just been rediscovered now. And I hope that little bit shows up in the article. If it doesn't, then that might be a sign that us Lutherans need to do a better PR job.