Yesterday, while skimming through the daily Politico Playbook, I saw the following blurb.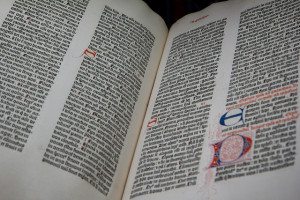 INAUGURAMA – Obama to be sworn in on MLK and Lincoln Bibles: The Presidential Inaugural Committee will announce today that on Mon., Jan. 21 — the 150th anniversary of the Emancipation Proclamation, and 50 years after the birth of the Civil Rights movement — President Obama will be sworn in using a Bible that belonged to Dr. Martin Luther King Jr. and the Lincoln Bible, which Obama used in 2009. At his official swearing-in on Sunday, the President will use the Robinson Family Bible, which belonged to the First Lady's grandmother. On both days, Vice President Biden will use the Biden Family Bible, which he used each time he was sworn in as a U.S. Senator, and in 2009.
After reading that, I immediately sent an instant message to my wife lamenting our lack of a family bible.
Now, our apartment is full of bibles. My wife has several personal bibles, including her youth group bible with its own classy jacket/sleeve/handle/lunchbox/whatever-you-call-those-things. And, since I've been in seminary, my bible habit has become unhealthy. Several copies of the NRSV, study bibles, a note taking NRSV with my name engraved on the cover that was a wedding gift from my wife, and several other translations (KJV, RSV, Inclusive, Shocken, etc) and Original Languages (Greek, Hebrew) are all over the place. And there's also bible software on my computer with several translations as well. In regards to just the sheer amount of biblical material in my apartment, we are a biblical household. We're drowning in the stuff. And I could always use more. You can never NOT have enough bibles, in my opinion.
But we don't have a family bible. I don't think my folks do – though my mom might have a bible from her family floating around. But there's nothing in my apartment that, if Oliver ever became president, he could bust it out and get sworn in on it. It's possible my extended family has something that would work – but, alas, there isn't one sitting in my house. And since Oliver only has 25 (or is it 27?) years before he's eligible to run for the House of Representatives, I feel that this problem must be urgently fixed. He's already seen enough episodes of The West Wing from Netflix (so glad it is on Netflix now), that I'm sure he's caught the political bug. Or maybe he's just into bugs (a song was sung about bugs on the most recent episode of Yo Gabba Gabba that he watched). Either way, I'm not taking any chances. This is important stuff that needs to be figured out RIGHT NOW.
But what should we look for in a family bible? What characteristics should it have? And how many coffee stains can I accidentally pour on it to make it authentic?