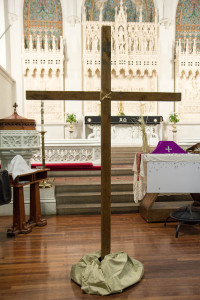 On Friday evening, I led my first funeral. I planned, organized, met with the family, and preached the entire thing. It was a funeral for a woman who was 73 years old. She died while at home, surrounded by her family, and sitting in her favorite chair. She was a member of the church but had not appeared at worship for a little bit. She didn't grow up Lutheran but she ended up at our church because she liked it. After planning the service with her daughter, we ended up with a Lutheran liturgy with Baptist trimmings. It opened with a Spirit Dance, included liturgical responses that the gathered community didn't do, and hymns that only I and the musician sung. It included an open coffin through the entire service with a final viewing during the closing hymn. We never got to the dismissal and the body left the church with "I Will Always Love You" by Whitney Houston playing through the sound system.
I spoke the following homily. I'm still not sure how I feel about it. I'm not sure what's bugging me about it. Is it because spoke like I knew her well – even though I didn't? Did the Gospel not come across as I would have liked? Am I just feeling strange about it because it was my first funeral homily? I dunno.
****
The problem with being relatively new to a church community, is that you don't always get to live alongside with everyone in it. I haven't been at Advent very long 'Äì but Delores 'Äì she was one of those people I just wish I had lived alongside with 'Äì just a bit longer. When I met her, and talked to her about her family 'Äì and talked to her family about who Delores is 'Äì she always seemed to me like a woman who lived. She didn't ever stop living out her life. It didn't matter her situation. It didn't matter that, when I visited her last fall at the rehab center 'Äì where the building was nice, the staff professional, and where they did good work there 'Äì but everything around her was a shade of blue. Blue walls. Blue sheets. Blue curtains. Everything was just blue. But not Delores. When I saw her, she popped with color. Her shirts were pink and red and orange. It didn't matter how she felt 'Äì she was not going to let the blue in the room change who she is. She was going to be a person who lived her life 'Äì no mater how blue her life got.
She was color. She seemed to me a person who loved the light 'Äì who loved being bright 'Äì and above all, she loved. When we talked, and when we shared scripture and holy communion together 'Äì I got a sense that she loved 'Äì that she wasn't afraid of love 'Äì and when I went to her apartment for the first time, and saw the pictures of her family hanging on the wall…. she's the type of person who is hard to describe 'Äì but she struck me as a bit of color in a gray world. And she lived out being that bit of color 'Äì till the end.
And that's what our Gospel reading is about today 'Äì about that bit of color 'Äì about that light that enters the world 'Äì about that pink, red, and orange, in a world of gray, black, and blue. Our gospel is about that bit of color that you just can't help and notice. We might not see it always. We might do are hardest to ignore it. We might try, like the poor human beings that we are, to think we don't need it 'Äì but that little bit of color actually changes things. It changes things because it's here. That bit of color that's a gift from God; a true gift from God 'Äì a gift that's given to all of us 'Äì because that's what Delores was 'Äì a gift to us 'Äì a bit of color in our world 'Äì a bit of color that we're all richer for.
But being richer doesn't mean we're never poorer. It doesn't mean we'll never hurt, suffer, or feel pain. Because, we're mourning; we're in grief; 'Äì and even though we're gathered here to celebrate her life 'Äì to celebrate all the lives she touched 'Äì we're mourning. We are feeling loss. Some of us are struggling to figure out how we're going to go about our day. Delores was an anchor 'Äì a friend 'Äì someone that we could trust would be there 'Äì and now 'Äì we're closing a chapter. We're closing a chapter in our relationship with her 'Äì and this is a closing that some of us don't wish we had to live through.
But the Christian story is never just about the loss. It's never just about trying to figure out how to go on 'Äì how to move on 'Äì how to live another day without Delores active in it 'Äì that's not the Christian story; that's not Delores' story; that's not why she came to this church, lived with its people, and heard the story of Jesus told every Sunday 'Äì of how God's only Son came into the world 'Äì came into the world to live a human life 'Äì to experience it 'Äì all of it 'Äì from joys to sorrows, happiness to pain, death to life. There's a reason why the shortest verse in our english translation of the bible is about what Jesus did when he went to Lazarus' tomb. He wept. Jesus didn't come to pretend that pain didn't happen. Jesus didn't come to say that the grief we feel, or the sorrow that causes tears in our eyes, or the fear and anxiety and countless emotions that Delores' death causes us, is something to be ignored. No, Jesus didn't come to say that the human life isn't worth living. Jesus came to transform it 'Äì all of it 'Äì including death.
Saint Paul writes, in his letter to the Philippians, that he presses on 'Äì that he presses on to make his life like Christ not because Paul was worth anything 'Äì but because Christ made Paul his own. Christ is Paul's bit of color in the world 'Äì that bit of color that he saw, witnessed, that reached out to him, reached out and loved him 'Äì wrapped itself around him 'Äì and he could do nothing else but live out that life in the world around him. And once that bit of color was in his life 'Äì there was no looking back 'Äì there was no dwelling in what's behind 'Äì instead there's a striving forward 'Äì a movement forward 'Äì a movement towards that which Delores was given in her baptism 'Äì that God loved her 'Äì that Christ loved her 'Äì that she was sealed in her faith with Christ's own death and resurrection. Because death isn't the final answer to who Delores Jones is. All of us who are gathered here together right now 'Äì we're witnesses to that fact; we're witnesses that you can't take that bit of color out of this world and think that death will be the end of it. Because those of us who interacted with her, who saw her, who were in relationship with her 'Äì we couldn't help but see that light that she shined 'Äì the light that came from the one who is Eternal 'Äì that light that, even now, in this period of darkness, this period of closure 'Äì as we send Delores on her way 'Äì her light that has infected our lives and Christ's light that continues to come into our world, right now, through people like Delores 'Äì that darkness can never be overcome.
Amen.