Sometimes, I can be pretty stupid. Knowing me, how could I not think about including buttons in my wedding until I saw this post???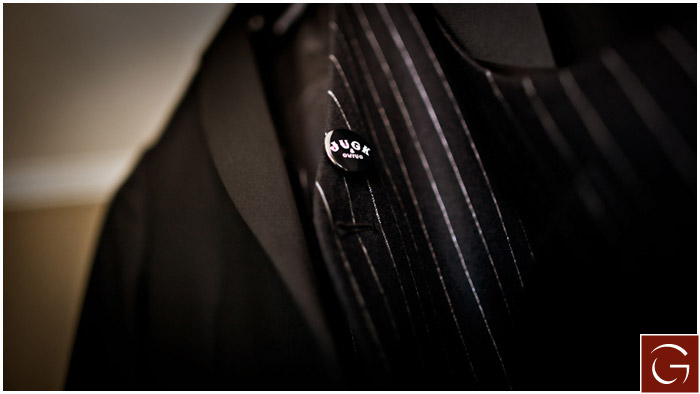 First off, I love the photographs. I want to be able to take pictures like that. In fact, I want my wedding pictures to be like that. But I'm realistic and my budget can't afford a photographer who is able to do that. Actually, I would probably steal the photographer's camera when he wasn't look and try to take pictures like that. And I'm not allowed to take pictures while I'm standing at the altar. I was told this by not only my fiancee but my brother and a few friends. They know me too well.
Secondly, if you've followed what I've written recently, you will realize that I find a lot of what that groom wore/did as pretty cheesy. "Here Comes Your Man", Chucks, the rip off of CGBG on the buttons – yeah, I rolled my eyes when I first saw it. To me, it's incredibly over done but this is the circle that I run in. All those things are popular in my social sphere so there is nothing "unbride" or different about it. In fact, it's all mundane. In fact, the John Valtross Chuck Taylors and Tux is fairly anti what CBGB and punk is about. But I gotta say that the cut and fit of that tux is perfect. The skinny tie is fantastic. And he's actually one of the few guys allowed to wear Chucks. Why? Because of the facial hair. He at least LIVES that part. That's what makes it work for me.
But besides all that, it's the button instead of a boutonniere that makes it for me. Why? Well, it's pretty obvious really.
You see. I have a hat. It has buttons on it. Lots of buttons.
I don't wear it much anymore. I moved on to a regular gray newscap (or a black mohawk when it's cold out) but, for a long time, that red cap with buttons was one of my clothing signatures. It has spikes going down the center because, well, I'm balding and I can't grow a mohawk so I try to make up for it anyway I can. All the buttons on there are either trendy internet cartoons, punk bands, or things my fiancee gave me. I would lose a button, replace it, and add stuff onto it. People liked it, some people said it reminded them of their grandma, but it was awesome. In fact, I wish I was wearing it right now.
So, of course, when I saw the buttons at the above wedding, I instantly wanted to make my own. I haven't priced them yet, I have no idea what they'll look like (I'd love to make it a cartoon version of our cake topper but that might be unrealistic) and I haven't even seriously talked about it with my fiancee yet but BUTTONS. That is a good idea. I have to file this in the maybe pile.