I hate the shiny shoes that you end up getting when you rent a tux. They remind me of the sleek, shiny, expensive, wastes of space that were the shoes I wore when I was in high school marching band those many years ago. They're usually uncomfortable, have no trend, and, when I wear them, they make me feel like I'm 6 years old and I'm not able to dress myself. I'm 26 now and there is still room in the debate on whether I'm able to dress myself properly but, dog gone it, I'm not wearing those silly shoes on my wedding day. Rented shoes are for bowling and ice skating. I'm a grown up; I can afford my own shoes.
Plus, why let the bride have all the fun in choosing her own shoes? How many blog entries or wedding stories do you read about women find the perfect pair of shoes? Wedding photographers are taught that they HAVE to take a picture of the shoes. They're second only to the dress in terms of bridal obsessions (or so it seems). And if they're going to take it seriously, I might as well take it seriously too. I've already written about how I think Chucks at a wedding are overdone and not as cool as people think they are. But I don't necessary hate all trends. I think they're useful. And one trend that I'm enjoying quite a bit right now is the resurgence in oxford/vintage style shoes.
When a guy opens up GQ or Details or Men's Vogue, we are told that we need to own at least several classic Italian or British made wing tips or oxford shoes. We bust out the Benjamins, invest in these shoes in our early twenties, make sure our feet never get fat, and just repair them when they wear out. Investing in shoes that will last decades is what we're suppose to do. But I was never the kind of guy who, in his early 20s, could afford to spend 500 dollars on some shoes. In fact, I can barely afford that now and with a wedding coming up, I can't justify to myself that extra cost (even though I would look pretty fly). So what do I do? I either head over to zappos and look for a sale or I raid Urban Outfitters.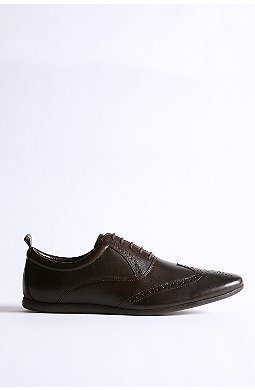 To the Point Wingtip in brown $68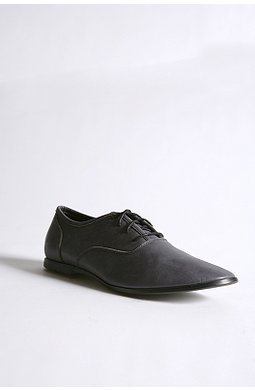 Bed Stu Stentorian Oxford in charcoal $78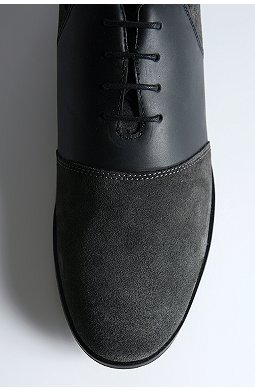 UO Tonal Oxford in gray $78
They aren't super formal, with fake leather, thin wood soles, but they fit rather well on anyone with a wide foot (which is my problem). They're supped up casual and would go great in any type of wedding that's less than black-tie. Comfortable, stylish, and affordable, they're also the type of shoe you can wear to work, with a suit, with jeans, or whatever. With a one button suit, it would be perfect. But if you have to go up in style, they're classy enough to work with whatever you're given. They won't work with an ultra formal tux with tails but, yeah, I'm not going to do that type of wedding anyways. I'm not a penguin.
If I didn't already have my shoes for the wedding, Urban Outfitters would probably be where I'd go. I ended up, in December, buying a pair of Ted Baker Thyme oxfords in black. They're the first "designer" piece of clothing I've ever purchased and I'm quite happy with them though the bottoms are pretty slick. That means it is easy for me to slide on asphalt. It also means that it'll be easy for me to slide down the aisle at my church like I'm a figure skater. And it'll mean I'll bust out a mean moon walk on the dance floor. Booyah.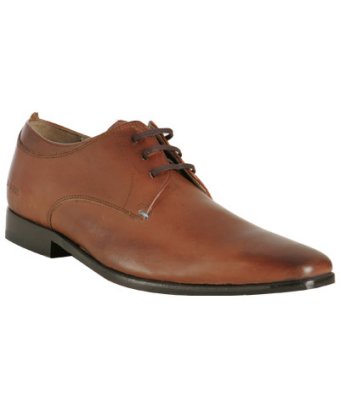 Mine are in black but they seem to be discontinued $135 (retail $210).