Who thought of Crocs as a good wedding favor idea? Oh. One of the biggest entertainment producer in Mexico's little girl thought that. Great.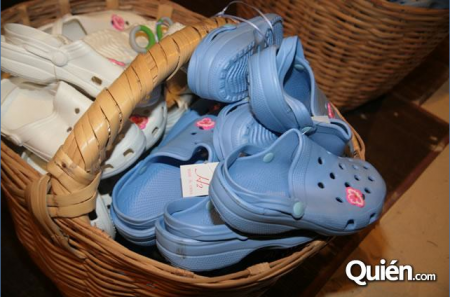 A WHOLE BASKET?!!
To be fair, the bride didn't actually wear them but she did offer them to her wedding party. She wore sandals while everyone else wore hideous shoes. How perfectly passive aggressive of her. You can already hear how that conversation to her bridesmaids went. "Oh, your feet will be sore from standing in your very high heeled shoes that I made you buy. Here. Wear some crocs during the reception!" And since it is her special day, all the bridesmaids did exactly that. Such an epic fail. Don't do this.
Bridesmaids out there, if you're going to wear high heeled shoes that you know will kill your feet after awhile, have your date bring a pair of ballet flats and hold them for you during the ceremony. Or sneak some in your purse and have him/her/them hold your purse for you. You already have to wear the ugly dresses – don't settle for ugly shoes. Stand up for yourselves! You're a lovely person too.
And if you forget shoes, go barefoot. I'd rather see cracked cuticles than white crocs. Ugh ugh ugh.