Man. I am hungry.
Alternative wedding ideas
Wisebread.com has some alternative wedding ideas on how to save money on your big day. And by "alternative", what it really is is an article about one bride and groom decided to do for their day and they want you to copy them. No real ring, by a used dress, wear crappy shoes, don't register for gifts (which is fine for this couple because the bride is Chinese and money is given at weddings – not gifts), get married at city hall, don't use a DJ but enlist the help of your friends, yadda yadda yadda. Basically, these are the same ideas I've heard a million times so there's nothing new here. I'd really like to say that the real meat behind this story is saying it's okay to have the wedding you want to have but I don't think that's it. Rather, it's just reporting on his bride's big day.
Get Married magazine
You've already seen the video and if you're anything like us, your family members and friends have started to bug you and say you need to do something like that too. My bride responds perfectly to those people. A groom and bride can do what they want, however, what is with those guys suits? I think I just hate that color of suit or tux or whatever they're wearing. I know it's the summer but, come on, there's very few people who can pull off that color. Also, I dislike the cut immensely – they look like squares to me. People watch that video and notice the dancing. I watch that video and I judge what the guys are wearing. That is why my wedding will not be a show.
Illustrated Invites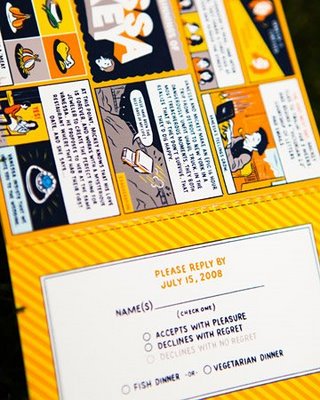 I like the idea of illustrated invites. If I was any sort of graphic designer, I might do something like this. The part I really like, however, is the "Declines with No Regret" option. Perfect.