The World's Most Expensive Wedding dress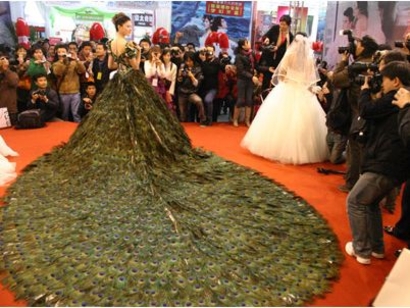 $1.5 million for a dress made out of peacock feathers? Wrong. It should be a tux made out of peacock feathers. I would totally rock that.
Orange Candy Buffet
Mad Men Weddings
I like some of the looks the only problem is that it doesn't fit the story line. Where's Don Drapper sleeping with the bridesmaids? Where's the guy chasing after the 18 year old freshman from college who is the bride's sister? Where's the closeted gay? I need more more more people.
PIE
The more I think about it, the more I want pie at my wedding. Only problem is that pie is hard to eat and if you don't have many tables, this could be a problem.
This is awful
What an awful wedding dress. Ladies, unless you are being married while scuba diving, do not expose your midrift at your wedding. If you must, do it at the reception but lets keep covered up at the ceremony or else I'm letting your groom walk around in a tube top on his big day.