Yesterday was my birthday. I had a fairly great day (all things considered). I would like to share some highlights with you, if you don't mind.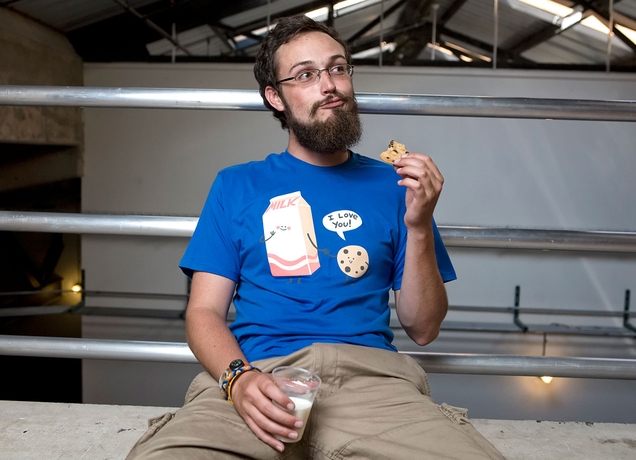 This isn't me. It's a male model.
In my Lutheran Confessions class, I sit in the very front row, right next to Dr. Wengert. Like usual, I was being used as an example in the class (I don't remember if he was drowning me with wine, over feeding me with bread, or listening to see if I'm alive, or whatnot). But then Dr. Wengert noticed my shirt. He took a moment to comprehend it, thought it was "something" and when informed it was my birthday (it was shouted out from the back of the room), Dr. Wengert sung me a lovely happy birthday song that he learned at camp. Only one other seminarian knew it. It involved death, dying, and hope that this might be my last year alive. So, for all future seminarians, if you would like to throw Dr. Wengert, buy your t-shirts from threadless; cookie loves milk is a good one.
During lunch at the refectory, the entire lunch crowd sung happy birthday. The table of all male faculty and staff didn't seem very into it at first. However, by the end of the song, they were lovingly harmonized with the entire room. Well done sirs, well done.
After lunch, and before my liturgy small section, Dan let me do a shot of lemoncello that he had made. Class went very well after that.
Casey said, throughout the day, that it was my birthday.
Many staff members and students thought I was five years younger than I truly am. They said I aged well. They do not realize that I have a beauty routine to keep looking young – and my hip and happening sense of style probably also threw them.
I really loved eating my birthday chorizo burrito. It made everyone else at dinner jealous.
And my favorite bit was opening my birthday present while skyping with K, and hearing the dog barking in the background.
K also sent me almost two dozen e-cards throughout the day; all were from some e cards. This was one of my favorites: