It's not good for man to be alone. That's why we have chatroulette and friends. But I'm not hear to talk about chatroulette. I'm here to talk about friends – specifically friends of friends.
As you know, my fiancee and I are planning to have a light dessert reception after our ceremony. It's been difficult for us to plan that part of the wedding. Most of the caterers we know don't do just desserts and we felt we'd have to self-cater to get the food we really wanted. But how would we handle the reception ourselves? How do we hire staffers? Where do we even find those? And how to we store the food? We had a million questions and it was stressing us out. The fact that it's only a little more than a month till the wedding wasn't helping anything.
Luckily, we have friends. In fact, we have really good friends. A friend of ours sent us a message about an actress she knows who caters desserts. We sent her an email and waited for her to respond. She did and sent back the following menu :
Mini cupcakes (to contrast with the vanilla sheetcakes; choose 1)
– Devil's food w/Italian buttercream
– Red velvet with cream cheese frosting

Cookies
– Rainbow (aka tri-color)
– Mini chocolate chip
– Vanilla spritz
– White chocolate oatmeal
– Cherry almond biscotti

Brownie Bites

Cinnamon vanilla blondies w/white chocolate and almond

Scones (choose 2)
– Plain
– Cranberry
– Lemon

Rugelach (choose 2)
– Chocolate
– Raspberry
– Brown sugar cinnamon

3 lbs Dark or Milk Chocolate Fudge

Fruit Platter
I'm man enough to admit that I drooled when I read that. I got excited. My fiancee got excited. And we even got excited about the price. We scheduled a tasting with the caterer and she came over on Thursday.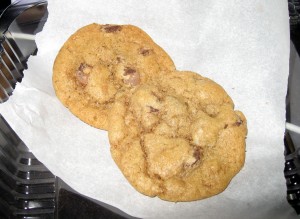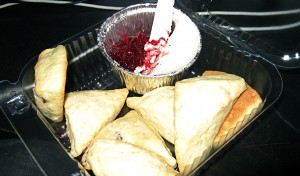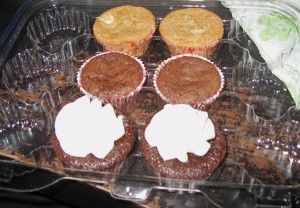 These pictures were taken after I started to pig out. We realized that we wanted photographic evidence of the deliciousness that we consumed.
The desserts were great. The cookies were crispy on the outside, chewy in the middle. The scones were perfect scones – great texture and the lingenberry and buttercream topping was an awesome addition to them. The blondie bites were yummy and I could eat those mini-chocolate cupcakes with buttercream frosting all day long. In fact, if the caterer had brought more, I would have eaten them all day long (and my stomach would have hated me). We booked our caterer and, with staff, it came out to $11 a person. You can't beat that.